Interactive Installation: Echobind RenderATL Graffiti Slappy Booth

RenderATL was our first in-person dev conference since the pandemic, which was initially billed with a focus on React. As React is one of the main tools we use at Echobind, we joined as cultural sponsors for the conference - creating a unique, interactive culture wall that attendees could leave a mark on.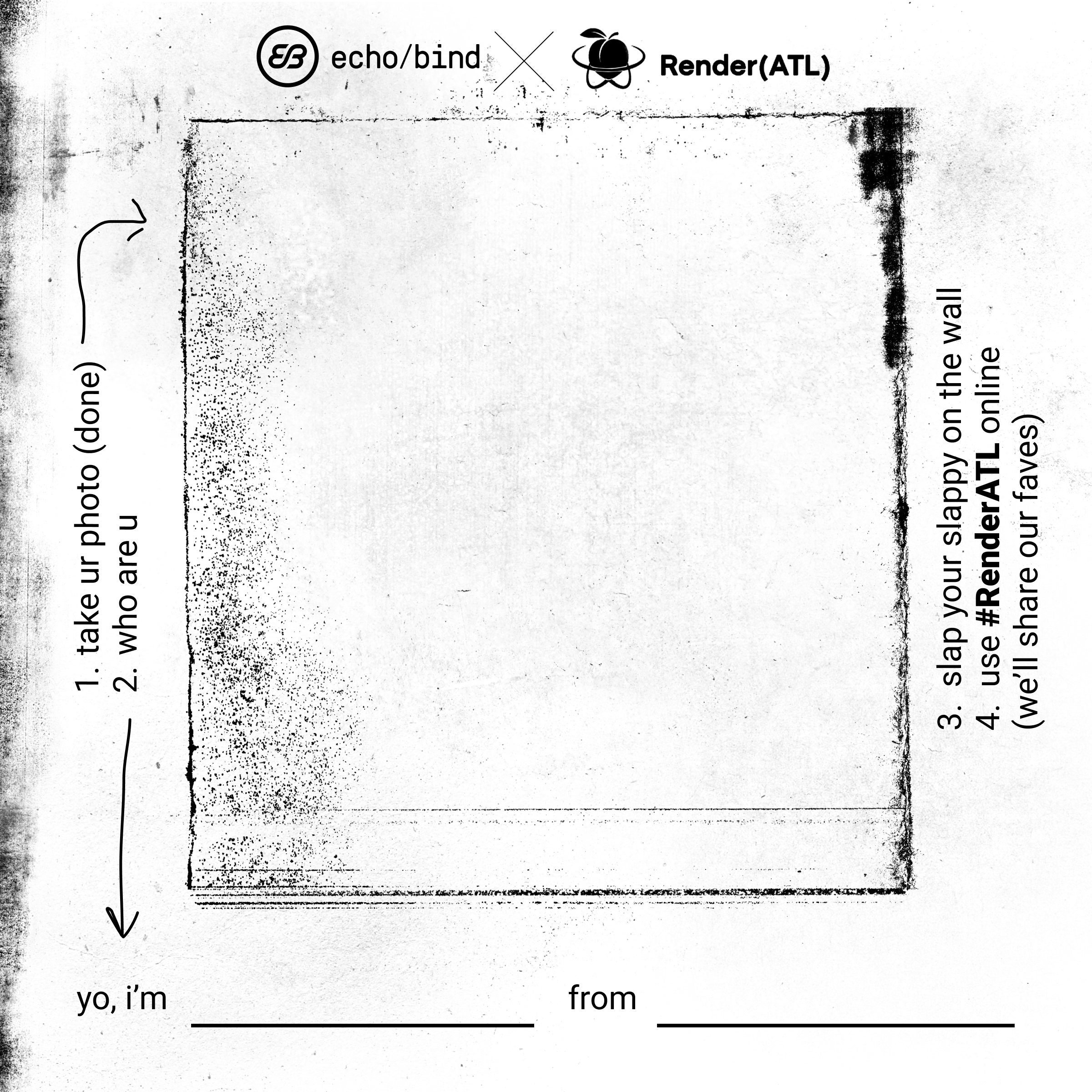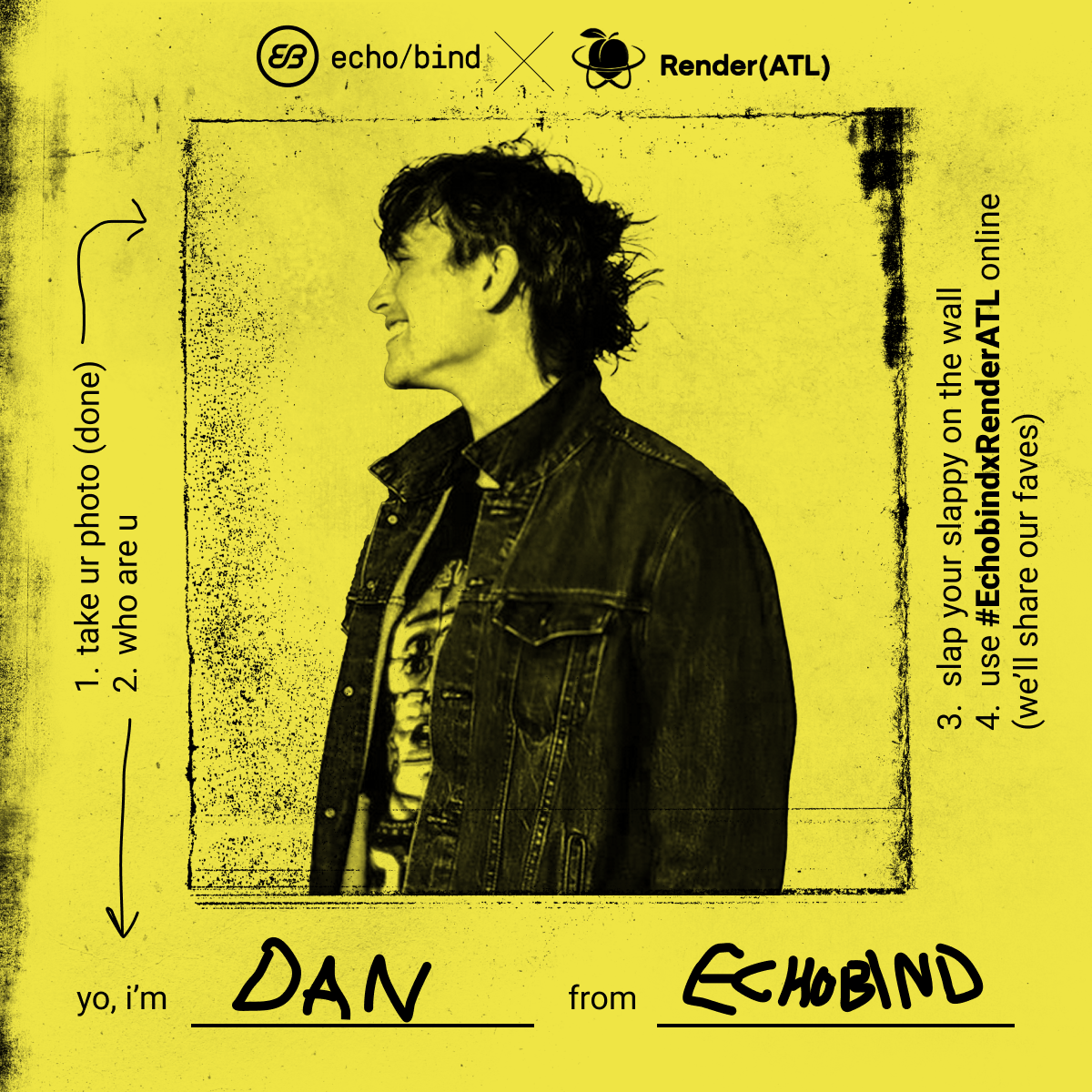 First, photo. Second, frame. Third, frame and photo combined and printed onto sticker paper. Last, attendee writes name, where they're from, and slaps it on the wall.
---

To get started, it was important to really break down a few of the goals of the booth as cultural sponsors:

Embrace Atlanta culture and black representation in a positive way
Facilitate interaction with other conference attendees
Leave a mark — interact with the booth itself

Additionally, we had a few internal goals for the booth — namely:

Recruit new hires
Generate new business
Meet new, like-minded folks

Initially, Alex Patrón (Echobind's Creative Director) and I tossed back and forth several ideas for generative art — we weren't sure how much bandwidth we'd have from the dev team to develop something for the conference, but we were working with what we knew: video art & synthesis, old Processing sketches, Unity 3D, and so on — planning to do projection art.





A screenshot of the inspiration board — including generative art, generative design, the Poooli printer, and video synthesis for Unity 3D and analog video


As the conference grew closer, we learned that the booth was going to be outside and in a more limited footprint than we'd initially planned. Eventually, we got access to the area the booth was going to be in, and from there we tried to carefully plan something that would be able to withstand any elements.



‍


Schematic for the small 4' x 3' footprint we'd be occupying with our booth — smaller than the wall we thought we might have



We landed on using a standing banner as our interactive piece — on one side, we'd have a mural by a local Atlanta artist (Faatimah Stevens). For the sake of speed and efficiency, we had them send us a "digital mural" — a piece they created using digital painting and typography — and printed that on the banner. Faatimah Stevens' was recommended to us by RenderATL as a local artist that we could work with for the conference.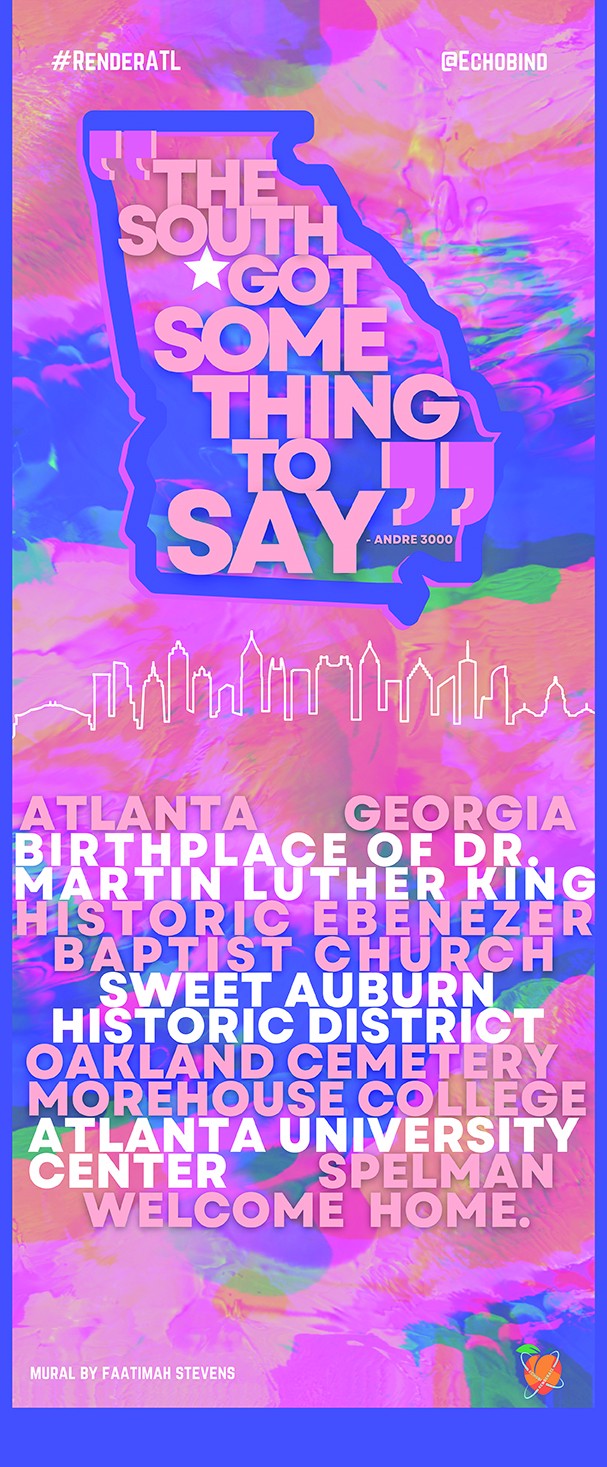 On the other side of the banner, we really tried to think of a way that attendees would be able to interact with Atlanta culture in a novel way. Anyone walking around Atlanta knows about slappies — every street corner, every light post, every stop sign has a slappy on it. A slappy, in street art terminology, is usually just a sticker — but the kind small enough that the creator can innocuously slap it on nearly any surface without drawing suspicion. Perfect for signs, poles, bathrooms, windows, drive-thrus, public transit — etc.

The branding of RenderATL, as well, is in cooperation with the Trap Music Museum — they provided interior decorating (like the now-famous Money Room), attendees had Cuban-link lanyards, they had trap playlists for every day of the conference, and the branding was bright and colorful.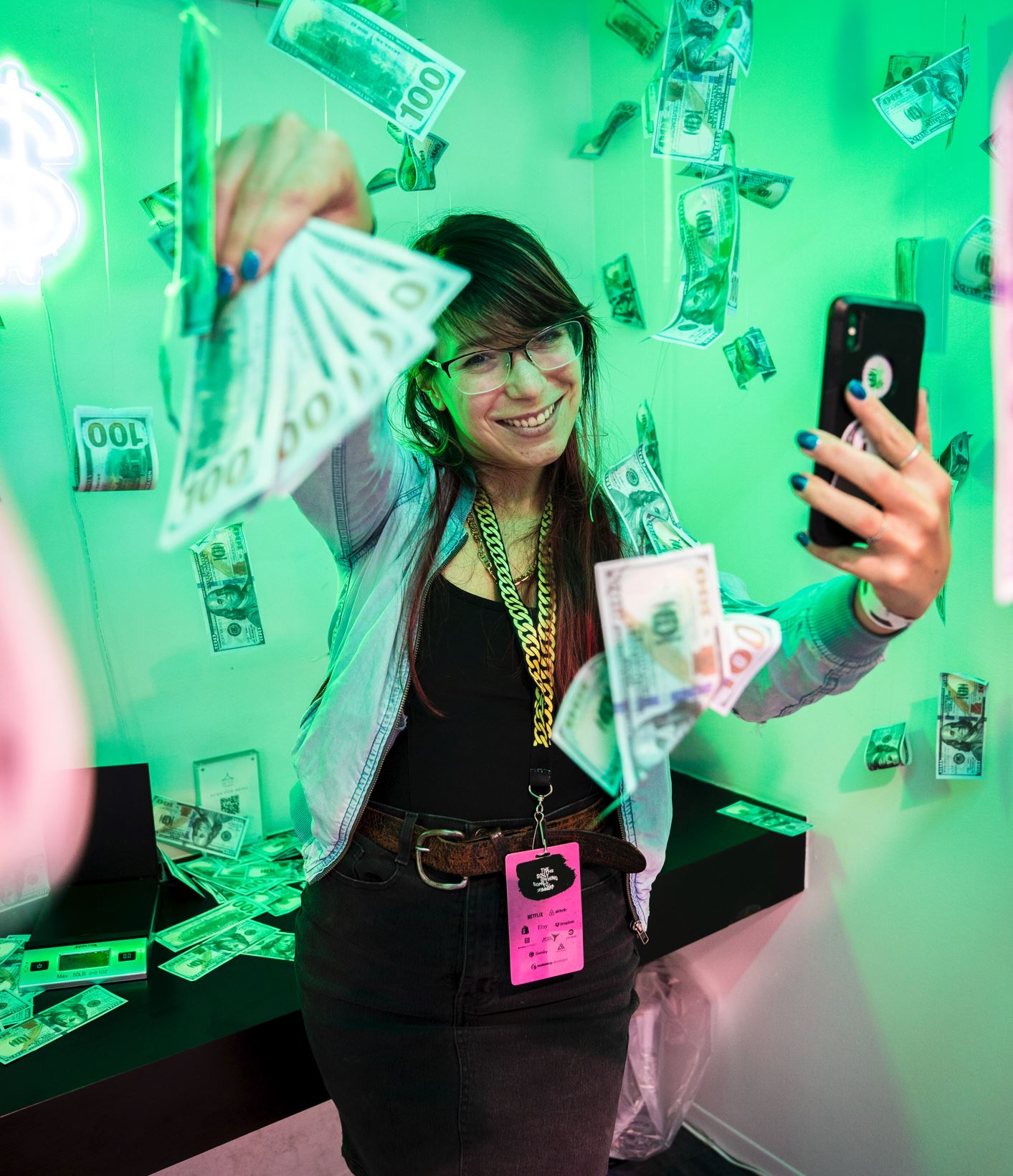 Left: RenderATL's provided branding and wallpaper. Right: The "Money Room" at RenderATL's conference space.


‍
Drawing from both of these things, we found a way to incorporate our interactive installation in a unique way that blended in with the spirit of the conference. Using a Poooli thermal printer, we'd take photos of attendees, put them into a cute slappy template, print them onto colorful sticker paper, and then have the attendees sign their names and where they're from.

The final piece of the puzzle was having them slap the sticker "onto" an Atlanta highway bridge overlooking the downtown skyline, amongst a bunch of actual local stickers.


---

Running the booth — that's a different ballgame. Once we got to Atlanta and started test printing photos on the banner, we realized:

Stickers were difficult to tear in practice: we equipped ourselves with tweezers to speed things up and make it easier to peel.
Being outside meant that the wind would sometimes hit the banner and attempt to knock it over: luckily, this didn't happen often, but it did have to be braced and occasionally picked up.
Stickers, thanks to humidity and the water-repellent surface of the banner, would slowly peel off: Whoever was watching the booth, would make sure to gently rub the stickers back onto the surface when they started to peel off — luckily we were moved inside the next day, which eased this.

Being outside had enormous benefits — as it was, outdoors was the area people could take off their masks and momentarily relax, which eased socializing. We were also set up next to a bunch of the chairs and couches, so what went from being a difficult and cramped space to plan for instead turned into a wide-open and inviting hangout area. The entire Echobind team could sit near the booth!



The flow went something like this:

I'm standing near the booth
Potential contacts would walk up, curious about the banner
I'd explain the premise to them
We'd take their picture, and then print out two slappies:
One is for them to take home as a souvenir
The other is for them to put on the mural

Taking a photo and then laying their photo into our template, printing it out, and then peeling the sticker off the paper takes a good 3–5 minutes. In that span of time, I can ask them:
Where did you come from?
Why are you attending Render?
Are you looking for work?
Are you looking to hire Echobind?
I could also direct them to take an additional sticker or share their email with us
In that span of time, I could direct them over to Jenn Robison, our Director of Engineering, or to Alex, our Creative Director. They could also talk to any other available members of the team to rapidly get an idea of what the team's culture is like.

‍



Jenn, working the magic with a group of attendees — background, a group of folks interested in slappies


As you can imagine, we very rapidly became a point of contact for a lot of attendees. We also had a hiring poster behind us, so anyone waiting to get their picture taken could quickly snap a picture of our QR code to check out job listings. Several of the folks who came up were speakers themselves — Justin Samuels, the organizer of the conference, even came through to get a photo.
‍




Justin, organizer of RenderATL, posing for his slappy photo


The other thing about setting up a photo booth this way is — you have material evidence that people took pictures at your booth, which encourages everyone else to take photos too. One of the speakers even explained to us that, as a result of our booth, he would often come up to remind himself of people's names because he could match their faces to names thanks to the slappies they left.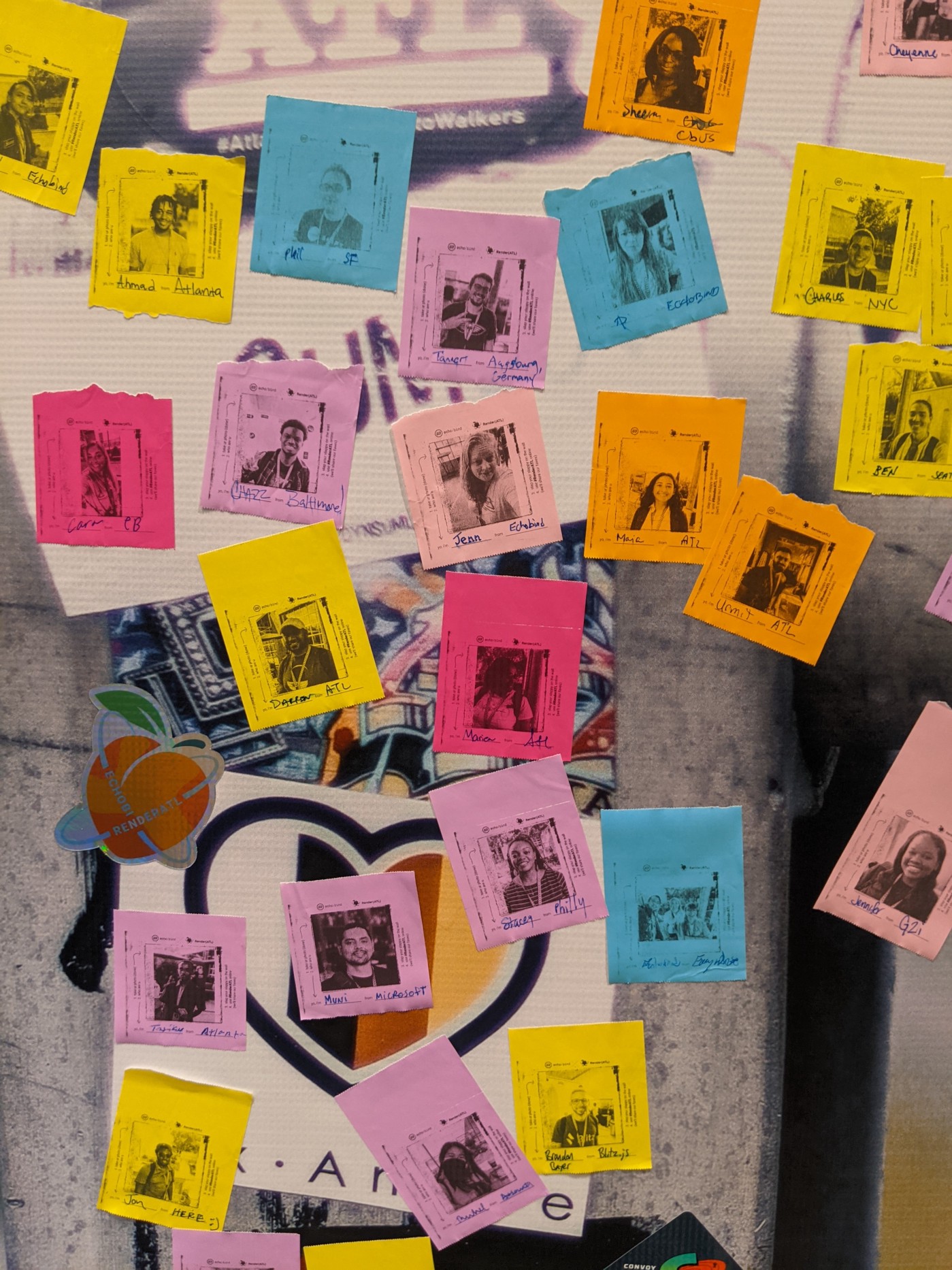 At the end of the conference, we were left with a genuinely cool piece of interactive art that captured a lot of what the conference was like: charismatic, upbeat, cutting edge, vibrant, and genuinely fun — in a way that actually reflects the culture of Atlanta.

We thought about what we should do with it for a minute — and then we concluded that the best person to take the finished mural with them was Justin himself, the creator of RenderATL: a memento to an excellent first conference, with pictures of so many of the people who attended.


‍


Justin with Jenn and the completed mural, at the front of The Gathering Spot, where the conference was held



Not only was the booth a success, but the whole conference was also. Engaging with so many people, we picked up a bunch of new contacts and potential hires, put our names on a lot of people's radars as a creative and fun agency, and we got to enjoy ourselves.


---