Midnight Ultra
---
Roles
Programmed entire game
Designed core combat/movement mechanics and enemies
Art direction
Designed logo
Animated events and bosses using Unity's keyframe animator
Modeled and textured all characters and props
Designed half of main levels and DLC levels
Created video journal cutscenes using a mixture of analog glitch art and Adobe Premiere
Created second "Devil's Path" DLC Trailer
Created main logo and DLC Logos
---
Summary
Midnight Ultra is a wild-west first-person-shooter and the inaugural project for the Forward Instinct team, released for Halloween of 2017 on Steam and itch.io for PC, Mac, and Linux. Players hunt witches and cultists through 10 levels of hallucinatory, grindhouse combat that harks back to the team's favorite memories of DOOM and Quake - with a visually raw and controversial artstyle that thrilled critics.

Following the success of Midnight Ultra, a followup DLC named "The Devil's Path" was released April 25th, 2018 that added new weapons, enemies, bosses, and levels.


"A gorgeous FPS that blurs a Hotline Miami palette with a grindhouse art style, a Quake-in-CGA aesthetic and a general vibe of lucid divebar nightmare, this was one that made me sit up and pay attention from the very first frame... The enemies are nasty in all the right ways, the weapons are straight out of some forgotten b-movie and the music sounds like that nightmare sex room out the back of the Roadhouse bar in Twin Peaks... Genuinely, this feels both like a lost early 90s treasure and a real 2017 original."

-Alec Meer, Rock Paper Shotgun

Midnight Ultra was exhibited at the independent games festival Bit Bash 2019, in Chicago, IL.

---
Creation




Midnight Ultra was initially prototyped during a period of frustration being cooped-up and not doing any personal work, and was inspired by a fever dream I had during the summer of 2015. This had both terrified me and become lodged in my brain, seeping its way into several game designs.

Finally, in October of 2017, I knuckled down with the Forward Instinct team to hammer it out for Halloween: inspired by the design of the free and flowing double-jump combat and platforming of DOOM 2016, and the diverse enemy design of classic shooters - visually inspired by the psychadelic and horror aesthetics of Hotline Miami and Twin Peaks, as well as my experiences with moving to Los Angeles, CA from Tallahassee, FL - and sonically inspired by spaghetti westerns, King Gizzard and the Lizard Wizard, and Queens of the Stone Age.


A library of "arenas" for setting up combat areas in Midnight Ultra that was shared between Ethan (fellow level designer) and I, from my sketchbook. Some were inspired by some of my favorite titles, like DOOM, Team Fortress 2, and Custom Robo, while others were imagined.
An overview of the designs from my sketchbook vs the final implementation of three separate maps - 2-1 (Canyon), 2-2 (Windmills), and 4-1 (Winter Village). 2-2 and 4-1 were both more popular than 2-1, for allowing multiple routes of completion, rather than a single large path.

While the team had been working on another game prior to Midnight Ultra, we all felt it was best from a scope perspective to try tackling a smaller project together first and releasing it, ironing out all the kinks in the process of releasing for digital distribution rather than trying to do it with a larger project with larger stakes - in the process learning lots of valuable lessons about deadlines, communicating with the community, and promoting a game to critics.


Midnight Ultra's many color palettes, several of which were added after the DLC launch and based on fan requests. CGA specifically was mentioned in the Rock, Paper, Shotgun review of Midnight Ultra.

Bolstered by the positive reception and unexpected sales for the game, we created a free DLC followup to address player requests and bugs, add desired new features, and test further promoting the game before moving to the next project.

For myself and for the team, Midnight Ultra was a great opportunity in completing a full project to be sold digitally, as a team that is remotely based across the USA - we communicated entirely via Discord and Facebook Messenger. Ethan (our level designer) and I traded screenshots and builds, testing each other's levels and finding bugs to fix along with friends that we sent test builds. This was also our first entirely digital project we've completed to date - other games were built as hybrids of live-action and digital, or were cooperative in nature, and built during our time together at Savannah College of Art and Design.

It was also a great chance to polish up my programming skills, and use analog video art as part of the game's cutscenes. This final piece is the last cutscene of Midnight Ultra, meant to close out the Devil's Path DLC, and my first heavy foray into abstract video art.






Midnight Ultra's final cutscene, made using analog video art, stock footage, and found noise samples.
---
Screenshots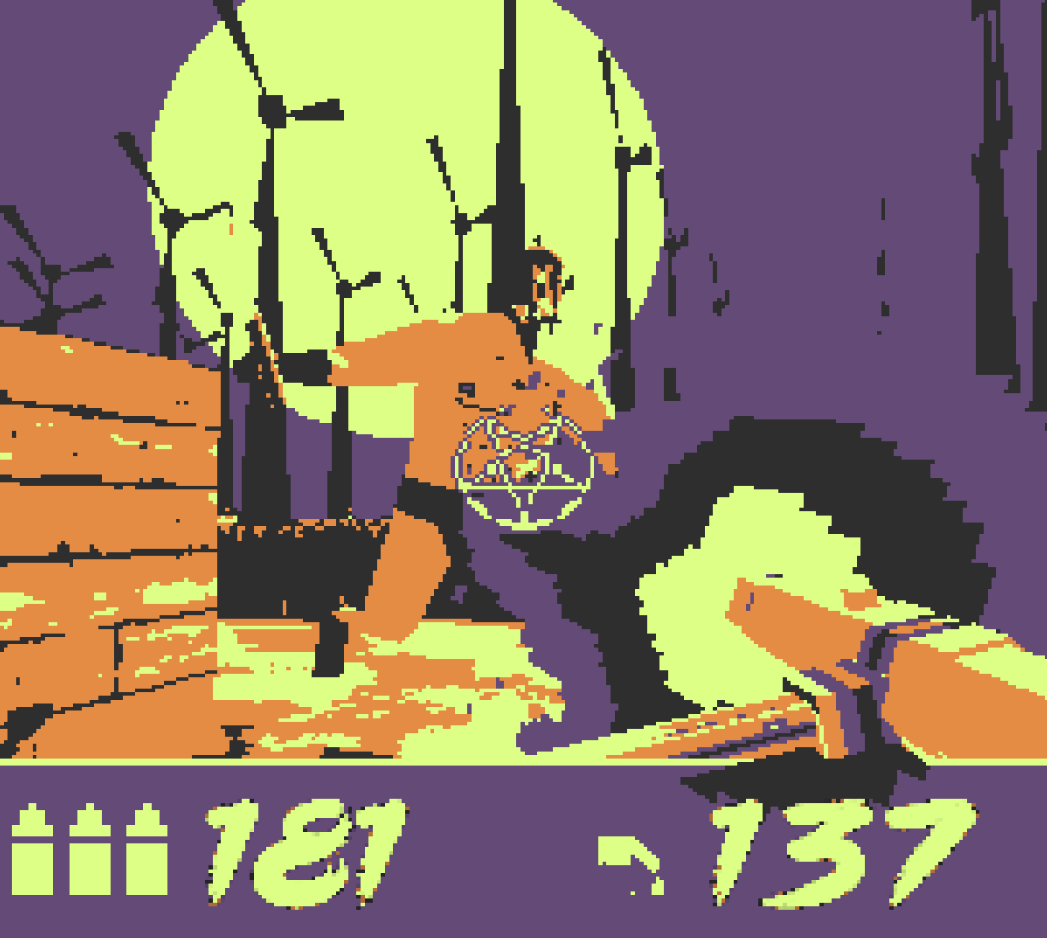 ---