Modeling: Team Fortress 2 Workshop
Concepted all pieces
Modeled all pieces with LODs at less than 1300 tris
Textured all pieces at 512 x 512 with separate paint channels and team coloring
Rigged, packaged, and imported all pieces into game
A collection of some of my self-initiated Team Fortress 2 Workshop items. All of these were game-ready and submitted to the Steam workshop, working in the guidelines set by Valve for polycount, LODs, and texture sizes. All were created using Blender and hand-painted Photoshop textures.


---
The Bone Banjo

A ribcage, elephant femur, and jawbone made into a gruesome guitar for 2016's Halloween event for the Pyro class as a
replacement for his gas tank.


---
The Workman's Sunblock


A simple backwards cap for the Engineer class, meant to match the color palette of his overalls and give a worn, paint splattered look. It occurred to me that, despite the character wearing his trademark hard-hat backwards, most of his hats were always forward-facing. This was my attempt at remedying that.


---
First Allogeneic Bank of Stuttgart


A literal "organ bank" for the Medic class, made to attach to his backpack. The jar also glows in the dark - meant to be filled with intestines, a liver, and a brain. The device from the top of the jar is meant to directly resemble the Medic's uber technology from the Meet the Medic trailer. Made for the 2013 Halloween event.

---
Fright Vision Goggles & Polter-Pack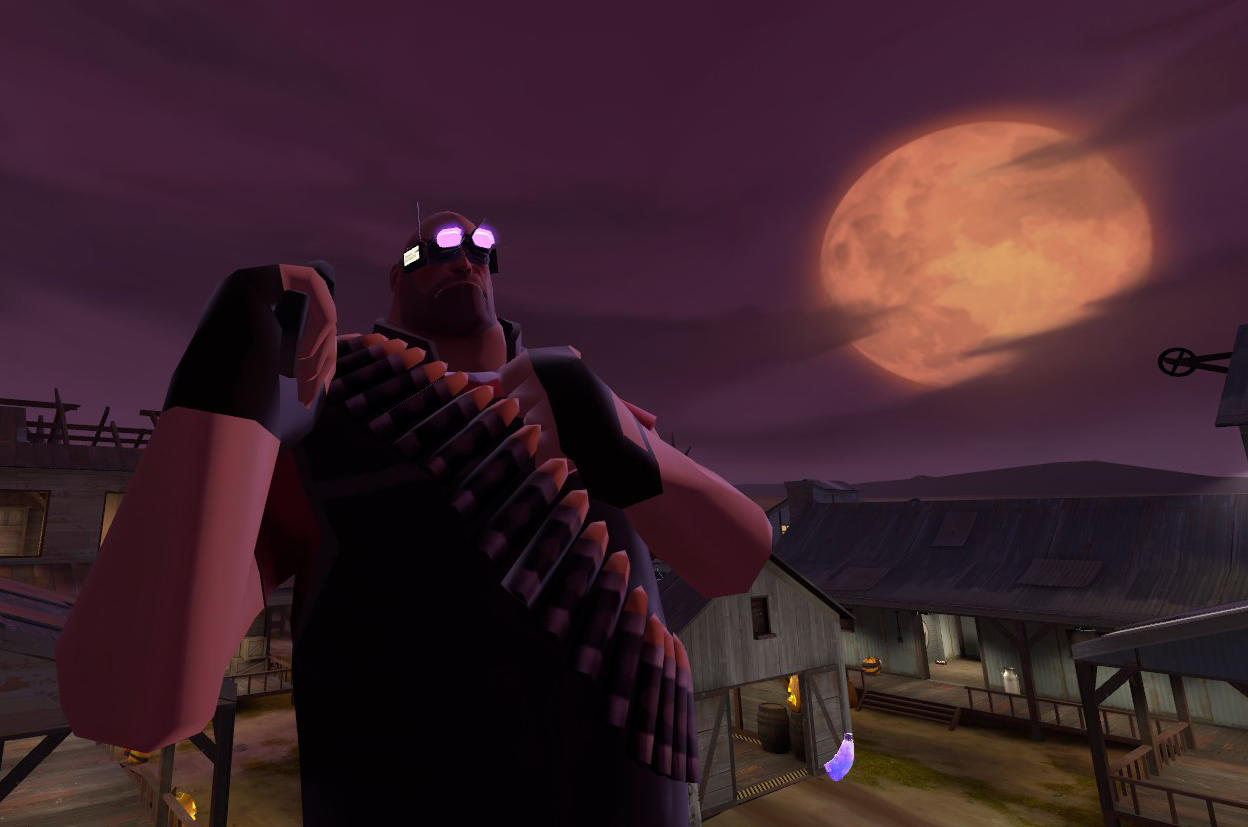 A set of cosmetics for all classes that used self-illumination to create a glow-in-the-dark effect. Meant as a tribute to the classic Ghostbusters franchise, with a retro-future TF2 twist. Made for the 2013 Halloween event.


---
The Eldritch Abomination

A tongue-in-cheek nod to the paper bag cosmetic I was inspired by (the Mildly Disturbing Halloween Mask), which was apparently so horrifying to look at that the mind imagined it as a paper bag. In this particular case I was experimenting with creating a moldy, beaten-up cardboard look with a simplistic, hand-drawn monster face. Made for the 2013 Halloween event.


---